8 days mountain biking vacation in Bulgaria
XC style routes, 3 hotels only! Riding on Rila Mountain: Borovets - Rila Monastery, Kovachevitsa...
A hauntingly beautiful and mysterious region, according to legends this was the home of Orpheus, and his spirit still seems to live on here in the music and culture of the local people. Ancient roads and bridges, fortresses and churches, all serve as reminders to the glorious history. It has been and is a land of hamlets and villages, local people living in a traditional rural lifestyle.
PROGRAMME:
DAY 1:
Transfer from Sofia Airport to Govedarci Village. First night: Djambazki hotel /Govedarci vilage/. Djambazki hotel /Govedarci vilage/. Unpacking and assembling the bikes.
DAY 2:
Riding on Rila Mountain: Borovets - Raduil village - 22 km/ Riding trough Plana Mountain to Iskar Lake. Transfer to the Djambazki hotel /Govedarci vilage/


DAY 3:
Riding trough Lakatishka Rila /the North part of Rila Mountain/. Lunch as a picnc. Transfer from Sapareva Bania to Bania Village by bus.


DAY 4:
Transfer from Bania village to Avramovo village by bus. Riding in Rodopi Mountain: Avramovo Village - Eleshnitsa Town. Lunch as a picnic. Back to the hotel by bus.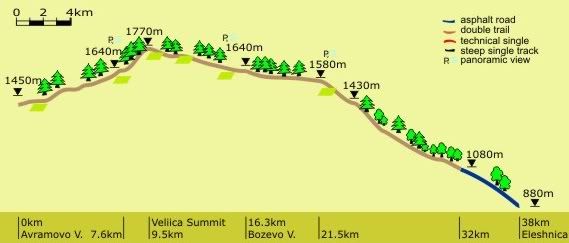 DAY 5:
Day off riding. Sightseeing: Melnik, Rozhen Monastery, walking trough the Melnik's rocky pyramids
During May- June /July/ is possible rafting on Struma River /the Kresna Gorge/. Lunch in restaurant /not included in the price/. Overnight in the same hotel - Rimska Bania.
DAY 6:
Transfer from the hotel to Osenovo Village / West Rodopes/. Riding in Rodopi Mountain - Osenovo Village - Kovachevitsa - Ognianovo village. Lunch as a picnc /or maybe in a restaurant in Kovachevitsa village/. Transfer by bus to Bania villige.

DAY 7:
Transfer by bus from hotel Rimska Bania to Predela pass and Dolno Osenovo Village. Biking - Dolno Osenovo Village - /Blagoevgrad/ - Stob village /or even some other route in the Area of Baia Vilage, so then we can have a time to visit the Rila Monastery/. Lunch as a picnc. Transfer from Stob village to the Rila Monastery.
Rila Monastery -Sofia. Overnight in Sofia - Hemus hotel.
DAY 8:
Packing the bikes. Transfer to the airport for departure flight.
From April untill October
The price includes:
all airport – hotel – airport transfers and transfers during the trip;
7 nights accommodation on a BB basis;
lunch packets;
professional cycling guide;
Translator/guide at disposal during all 8 days;
cycle's transportation;
First Aid medical support during the rides;
A detailed Road map of Bulgaria and info materials for every participant.
The price does not include:
Dinners in the hotels/guesthouses or in restaurants and taverns specially chosen for the purpose;
All museum and sightseeing taxes;
Additional trips
Remarks:
The hotels will be warned and ready to prepare lunch packets for the way between two places.
Possibilities to divide the days into days of ryding and days of visits, we will rearrange it accordingly!
Group Size