West Europe Fairy Adventure
PRAGUE - PASSAU - SALZBURG BIKE TOUR...Guided bike tour - 10 days cycling - 512 km/ 317 miles
The tour leads through 3 countries of Middle Europe - the Czech Republic, Germany and Austria. We will visit 3 most renowned UNESCO landmarks, various urban listed preserves and southern part of the Czech Republic, which with its landscape and beautiful castles and chateaus is the cleanest area in Czechia, simply put - Greenways and much more. Basic program of this tour includes 12 days & 10 days cycling without any Car / VAN transfers. Tour can be supplemented with extra nights to give everybody enough time for landmarks, relax, and entertainment.
Also the tour can be shortened at your request, or transfers in a Car / VAN can replace some parts of the tour. Self-guided bike tours or guided bike tours are available.
Bike touring Daily program:
Day 1 Prague arrival day:
This day begins with a welcome at the airport, then transfer to hotel and accommodation. This day we will devote to discovering the magic places of Prague. We recommend visiting of the UNESCO historical centre of the city and following that we will prepare a welcome dinner in a restaurant.

Day 2 Prague - Karlštejn - Dobříš : cycling 62 km / 38 miles:
Our first cycle tour leads from our Prague hotel to the famous castle Karlstejn. After an optional visit of Karlstejn, another part of our first cycle tour to a city of Dobris is awaiting us. The city, which in the 10th century led "Golden Path" from Prague to Bavaria. Once we have put us up, we can set out on a visit of the beautiful chateaux with a large French garden.

Day 3 Dobříš - Zvíkovské Podhradí : cycling 67 km / 42 miles
From Dobris, we will go to Orlik dam in the morning - one of the dams of a Vltava-river cascade system, which also protects Prague against floods. The dam is 33km / 22 miles long and we will go alongside it to reach 500m long Zdakovsky bridge, which with its one span is one of the biggest bridges in the world. We can also visit a romantic water castle Orlik here. In the afternoon, we will leave for Zvikovske Podhradi & a Zvikov castle at a junction of the river Vltava and the river Otava. We will be accommodated there. Optional visit of Zvikov castle is recommended.

Day 4 Zvíkovské Podhradí - Písek : cycling 28 km / 17 miles
Today we will ride from Zvikov through the romantic landscape and forests into a smaller town Pisek. Pisek City was founded on the banks of the river Otava Czech kings in the 13th century. From this period also comes his biggest sight - the oldest stone bridge in the Czech Republic, which is older than the Charles Bridge in Prague. Thanks to the gold-gold mining Otava Pisek is soon became an important commercial center. This romantic city, still called the city students, after 1989 blossomed into beauty. Houses, parks and monuments are all newly revised and creates an unforgettable atmosphere for tourists, well-being and relaxation.

Day 5 Písek - Hluboká - České Budějovice : cycling 53 km / 33 miles
From Pisek, we will set out on a route to Hluboka chateaux, also called the Pearl of Southern Bohemia. After optional visit of the chateaux we will finish today's route in Ceske Budejovice, a city of the famous brewery Budvar / Budweiser and a unique historical monument from 1825 - the first and biggest horse railroads in Europe, which once connected Austrian city of Linz and Ceske Budejovice. After a dinner with Budvar beer, we definitely recommend you to enjoy a romantic evening walk round the city center.

Day 6 České Budějovice - Český Krumlov : cycling 29 km / 18 miles
We will say good-bye to Ceske Budejovice and will go through a beautiful landscape us to Cesky Krumlov - a last UNESCO place in the Bohemia. We will spend here unforgettable moments walking through historical lanes; we can visit the chateaux and its tower, a museum of medieval torture tools and many other interesting things.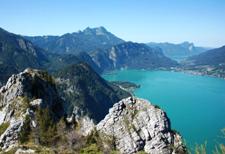 Day 7 Český Krumlov - Horní Planá : cycling 32 km / 20 miles
Another route will take us from Cesky Krumlov through the beautiful landscape of the National Park Sumava to a city of Horni Plana. We will spend here some relaxing moments in the largest town on the shore of the Lipno dam - urban listed preserve. UNESCO marked the protected landscape area of Sumava and the Bavarian Forest as a Biosphere Reserve. We can also visit some historical sights such as church of St. Margaret from 1374, Baroque parish, neo-baroque town hall from 1896, or birthplace of Adalbert Stifter - a local writer.

Day 8 Horní Planá - Passau : cycling 69 km / 43 miles
We are leaving Horni Plana and are looking forward to the city of Passau - German city on the border with Austria called the city of three rivers. Its well-kept historical centre will fascinate us with its picturesqueness and baroque architecture. We will certainly be tempted by a visit of a Rathaus, St.-Stephans-Dom, church St. Paul, museum and many others. Or a visit the monastery Niedernburg with a tomb of Blessed Gisela?
Day 9 Passau - Ried im Innkreis : cycling 58 km / 36 miles
We will say good-bye to Passau and will go on the Austrian side along the river Inn through a beautiful landscape to a Baroque city Scharding and Ried im Innkreis through a landscape for centuries belonged to Bavaria. We will pass by city St. Martin im Innkreis where we can visit a Jewish stone church, a Baroque parish church and a Baroque castle of the genus Arco Zinneberg with a large park. After the accommodation and relaxation we can visit interesting sights or nice restaurants in town at a foothills of the Alps.
Day 10 Ried im Innkreis - Attersee am Attersee : cycling 53 km / 33 miles
Today we will continue through a beautiful landscape of foothills of the Alps to Attersee am Attersee - town in the fairy countryside at a beautiful lake Attersee. This small town, which are the first mention already in a neolit is our last stop before the end of our tour to Salzburg. After accommodation can visit some sights and romantic pubs or enjoy a pleasant stroll on the promenade by the lake Attersee.
Day 11 Attersee am Attersee - Salzburg : cycling 62 km / 38 miles
This day's route will lead us alongside the lake Attersee first; we will have a short break in a picturesque city of Unterach a. Attersee and then will hit the road alongside second beautiful lake Mondsee which dominated by the so-called "Dragon wall". We have to overcome one more bigger hill to the 28th mile and then just going downhill to Salzburg. We will arrive in Salzburg late afternoon and therefore we have time to visit only if it extends to our program for one day. We will accommodate with a subsequent walk through nocturnal Salzburg.
Day 12 Salzburg departure day
We have packed and are waiting for our VAN, which will take us from the hotel to the airport. We are looking forward to go home, yet inwardly we promise to come back at some stage in the future.
daily from April 14 to September 21 (different departure dates on request)
Guided bicycle tour - service at price
Quantity of persons : 6 - 20
one transfer Prague airport - hotel & Salzburg hotel - airport
visit the most beautiful tourist and Unesco sites in the Czech Republic, Germany and Austria
accommodation in selected 3*, 4*, 5* hotels or pensions
all rooms with privat bad or shower and toilet
11 breakfasts
welcome dinner incl. welcome drink
2 group dinners
farewell dinner incl. folklore program
accompanying car (VAN)
reliable transportation of baggage
professional licensed guide English speaking
sightseeing with guide
all entrance fees at the price
mile by mile Itinerary, graphs / terrain elevation, route instructions
original package of cycling maps & town maps
daily briefings
Price per person:
EUR 1 579 (shared double room, 3* hotels)
Discount:
for more then 15 persons in the group
Supplement:
single room
quality selected 4 stars or 5 stars hotels
half board
quality bikes rental & bikes delivery (to Prague hotel & from Salzburg hotel)
GPS lending
Trip Rating:
2.2 out of 5.0
Routes:
marked cycle path
90% cycle routes with low motor traffic
90% blacktop cycle path